CC Transformer Co., Ltd. Emphasizes on speedy after sales service by a team of expert in transformers who's always ready to give advices on how to select the right transformer for your business.
Transformer is the important equipment and expensive price. If compare others equipment in the power system. When transformer have problem or damage. As a result.
- Production disruptions.

- Office stop operation.

- User without electricity.

***And sometimes takes a long times to repairing. Cause more damage.***
Service as detail below.
1.Maintenance of power transformer the voltage 69 KV,115 KV,230 KV
1.1 Transformer Testing

-Ratio Polarity
-Exciting Current
-Winding Dc Resistance
-Single Phase Leaking impedance
-Three Phase equipment shot circuit impedance
-Insulation Resistance
-Insulation Power factor
-Bushing : Insulation Power factor capacitance
-Test Surge counter
-Function test with protect equipment transformer

1.2 The inspection and test equipment SwitchYard
1.3 Installation of additional equipment in the SwitchYard
1.4 Other service following customer requirement

2.Maintenance / Repair distribution transformer of all manufactures and international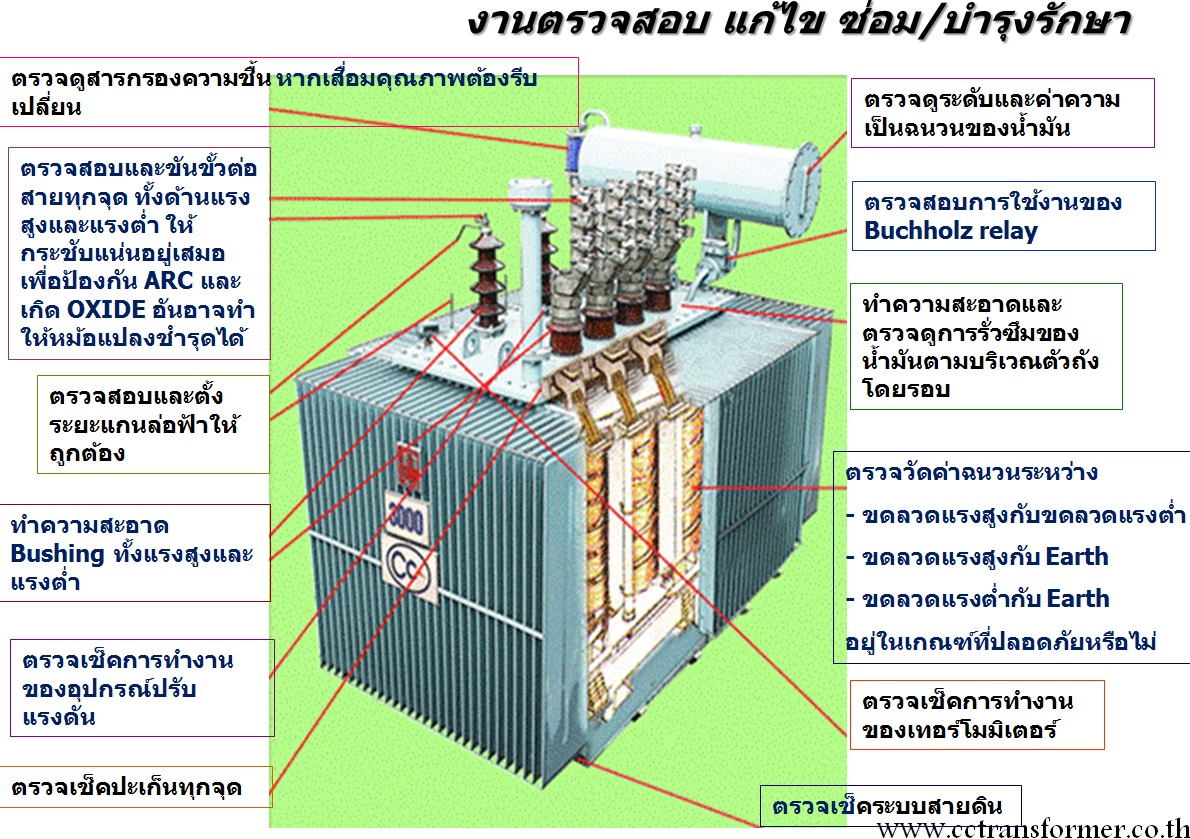 2.1 Service Inspection Repair / Maintenance Transformer (Distribution and Power Transformer).
2.2 Service Inspection / Testing Transformer Special case.

2.3 Service Renewal / Adjustment / Design with installation electricity post HV include Overhead and Underground.
2.4 Service Maintenance renewal / adjustment / Design power system LV include installation.
2.5 Service Transformer for rental.
2.6 Service Consultant / Advice about save electrical energy.
2.7 Service Consultant / Advice about inspection safety system and equipment electrical as a rule ministry.
2.8 Service contract per year for inspection / maintenance transformer continuous.
2.9 Service Repair Transformer all type / all system / all brand.
2.10 Service Installation with testing transformer (22 – 115 kV.).
2.11 Service Installation cable and system under ground with HV.-LV. 22-115 kV.
2.12 Service Testing RMU.