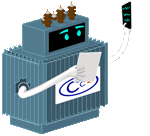 - Check the oil level insulation and the acidity of the transformer oil.
- Check the bushing both HV. and LV. Bushing

- Inspection and repair leaking oil transformer on the surface of the welding transformer
- Inspection equipment devices such as filters interests drop out Lighting / Bird gard Arching Horn and all system ground transformer

- Inspection operation of equipment such Thermometer, Buchholz Rely.
- Measurement of voltage and current transformer

- Temperature m

easurement connectors High voltage / Low voltage power transformers to the chassis



-

Measurement

of Winding Resistance Test
-

Measurement

operation Tap Changer

-

Measurement

of Insulation Resistance Test
-

Measurement

of ground transformers

SERVICE INSPECTION TRANSFORMER

- Inspection hot spot in electric system by Thermo Scan
- Test DGA (Dissolve Gas Analysis Test)

-

Test

Insulation power factor
- Test Hi-POT and Others

SERVICE INSPECTION SPECIAL TRANSFORMER